Small Class Sizes
BSS/SER Learning Communities enroll a
maximum of 30 students. Small class sizes
benefit students in a variety of ways. In this
setting, students have more opportunities to
ask questions. They also have more
opportunities to engage in discussions.
Finally, small class size makes it easier to
know you professors and classmates.


Student Equity Reenvisioned
Student-Centered Faculty
BSS/SER faculty are committed to creating
an active learning environment for students
by embedding high impact practices such
as collaborative assignments/projects,
research experiences, intercultural learning
and capstone projects.
Student Relevant Themes
BSS/SER Learning Community themes
focus on the big questions that matter
beyond the classroom and that have an
impact at the global, national, regional and
local level. Issues explored may include
social justice, individual and group rights,
social policy and social change,
environmental and ecological challenges
and multiculturalism and globalism.
Embedded Academic Counseling
BSS/SER Learning Community counselors
assist students in academic/career planning
so that immediate and long range academic
and career goals can be achieved.
Counselors accomplish this by providing
students with relevant information and
individualized education plans.
Learning
Community
Portal
Welcome!
We are extremely excited about your interest in participating in a Behavioral and Social Science (BSS)/Student
Equity Reenvisioned (SER) Equity-Minded Learning Community! BSS/SER learning communities provide
students with an opportunity to learn in an innovative and dynamic academic setting that embeds high impact
practices to facilitate student success. BSS/SER learning communities are also theme-based and
interdisciplinary. Themes explored in past learning communities include

Heritage and Identity Across Borders:
The History of Mexico and the Chicano Socio-Cultural Experience

and

Social Justice: Racial Inequality and the
Making of a New World

. Our learning community approach creates a culturally responsive learning experience
that fosters and enhances connections among students, faculty and disciplines. Please explore this website to
learn more about our learning communities and how you can become a participant. Feel free to contact us if you
have any questions.
Why Participate?
Fall 2018 Learning Communities







UC/CSU Transferable Courses
All courses offered through BSS/SER
Learning Communities are UC/CSU
transferable. These courses are also listed
under their respective areas in ICETC.
PASS Mentor Tutoring
The PASS (Peer Assisted Study Sessions)
Mentor Program assists students with
course content in the classroom and
through PASS sessions. PASS mentors also
provide students with general advice on a
wide range of topics relating to student
success.

Jason Suarez
SER Faculty Coordinator
Wendy Lozano
Student Services Specialist
Student Equity


B

etween Black and White: Finding AAPI Voices in the U.S. Racial Landscape
Christina Nagao -
English 1A: People of Oceania in the U.S.
Melissa Fujiwara -
Sociology 107: Issues of Race and Ethnicity in the United States
Heritage and Identity Across Borders: The History of Mexico and the Chicano Socio-Cultural Experience
Xocoyotzin Herrera -
Ethnic Studies 3: The Chicano in Contemporary United States Society
Jason Suarez -
History 154: History of Mexico
Social Justice: Racial Inequality and the Making of a New World
Hong Herrera-Thomas -
Ethnic Studies 1: Introduction to Ethnic Studies
John Baranski -
History 102: US History from 1877 to Present
Fall 2017 Learning Communities
SER Faculty

Argelia Andrade
Humanities - Spanish
John Baranski
Behavioral and Social Sciences - History
Randall Firestone
Behavioral and Social Sciences - Philosophy
Melissa Fujiwara
Behavioral and Social Sciences - Sociology
Xocoyotzin Herrera
Behavioral and Social Sciences - Ethnic Studies/History
Hong Herrera Thomas
Behavioral and Social Sciences - Ethnic Studies/History
Daphna Ram
Behavioral and Social Sciences - Human Development
David Reed
Behavioral and Social Sciences - Political Science
Jason Suarez
Behavioral and Social Sciences - History
Orion Teal
Behavioral and Social Sciences - History
Sandra Uribe
Behavioral and Social Sciences - History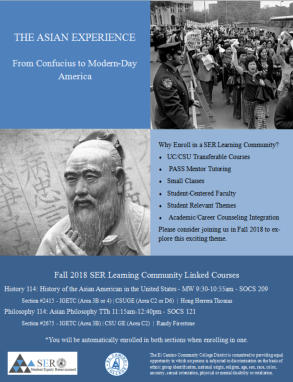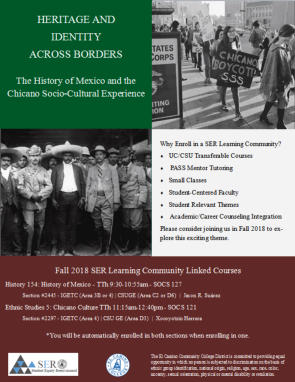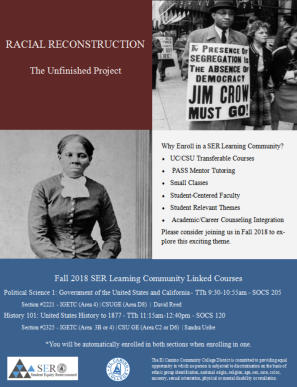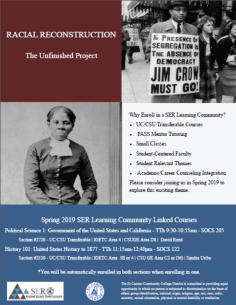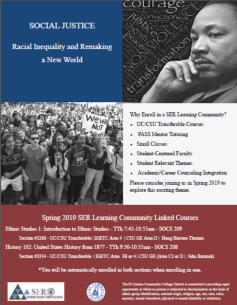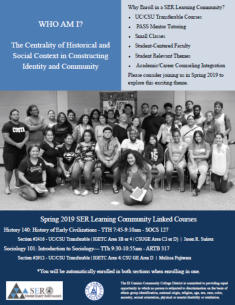 Spring 2019 Learning Communities